Membership application
Before you fill out your personal membership application, please read the statutes, the user rules of the FeM-Net and the membership fee regulations. You agree with them when you sign the application form.Membership Fee Rules

You should bring the filled form to you administrator. Please don't forget to show your student identity card.
Zum Öffnen brauchst du den Acrobat Reader oder einen anderen PDF-Viewer. Bei Fragen zu den zu leistenden Angaben einfach an deinen Admin wenden.
Pay membership fees by bank transfer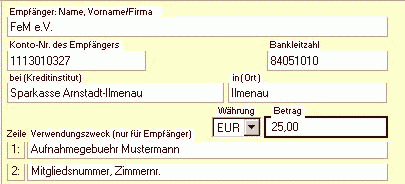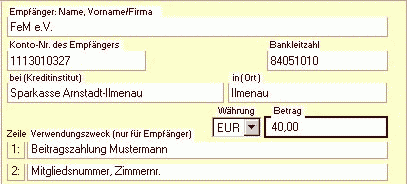 Bank account details
Account holder: Forschungsgemeinschaft elektronische Medien e.V.
Bank: Sparkasse Arnstadt-Ilmenau
BLZ (Germany only): 84051010
Account (Germany only): 1113010327
IBAN: DE15 8405 1010 1113 0103 27
BIC: HELADEF1ILK
Creditor Identifier (CI): DE49FEM00000204630
Please give your name and membership number on every bank transfer, so we can assign the transfer to you.